Black Mother of Pearl Shell Pieces
Baroque shaped shell pieces in a functional semi-processed form. Sustainably farmed in the remote Tahitian and Cook Island lagoons this black lipped oyster shell is renowned for its lustrous dark peacock colouring.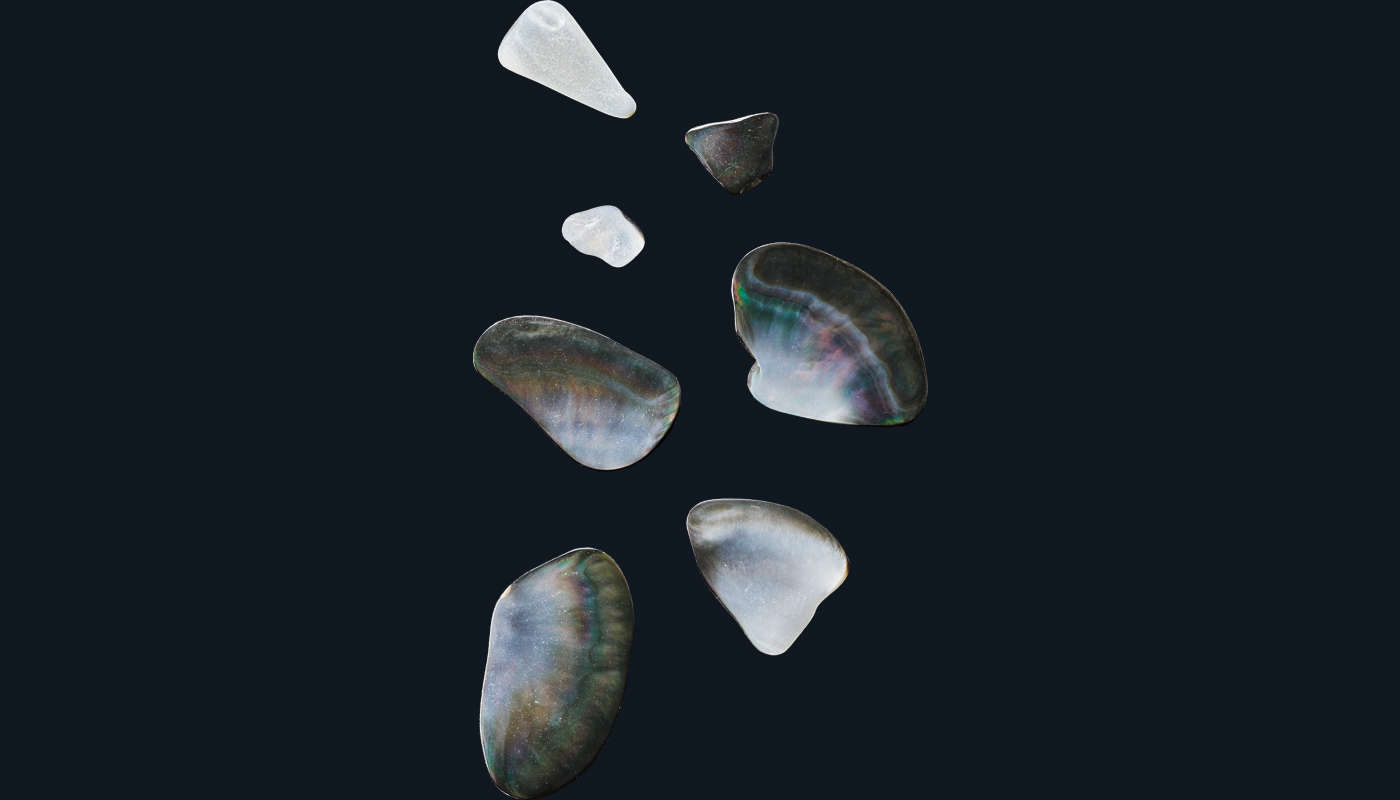 Ocean Tumbled
Like the small pieces of shell washed up on beaches, Luméa Ocean Tumbled Shell Pieces are formed by a process similar to ocean tumbling. The edges are smoothed and protective outer layer of the shell is naturally removed. Our process involves only water, shells and movement and ensures the iridescent nacre is revealed.
Shell pieces are a versatile product best used indoors. When used outdoors, the surface will need coating as the shell may dry out from the sun and the colour might fade over time. Scatter them over aggregate floors or bench tops to add splashes of iridescent colour, create tactile interior furnishings, or polish and craft into baroque style jewellery.
Extra Fines 2-5mm (0.78" - 0.20")
Fines 5-15mm (0.20" - 0.60")
Small 15-25mm (0.60" - 0.98")
Medium 25-40mm (0.98" - 1.57")
Large 40-60mm (1.57" - 2.36")
Extra Large 60mm+ (2.36" +)

Shell is a natural product with a variety of factors that affect appearance. Your screen settings also affect the experience of the colours and appearance. Therefore, there is no guarantee it will be possible to achieve the exact appearance as what you see on this website. Certain characteristics of our products may be altered depending on storage conditions or their use in combination with other ingredients. This is beyond our control and we strongly recommend contacting us directly with specific enquiries and testing prior to use.
Tell us about your project...
Your project is unique, so we provide personalised advice before delivering worldwide from our studio in New Zealand.

Luméa products are made from natural shell with a variety of factors that affect form and function. If you can't find the right product from within our range, then talk to us about our custom design service. We love to experiment and collaborate with our partners to create unique solutions.