Black Mother of Pearl Buttons
Luméa Shell Buttons are carefully cut from our Luméa Whole Shells. The colouring and texture of each piece is always slightly different due to the natural variation of sea shells. Use Luméa Shell Buttons to connect people with nature through fashion. Luméa can provide either the semi processed shell blank, which you can finish yourself, or the finished button ready for application.
Blank (Semi-Processed)
Luméa Shell Blanks are produced by experienced craftspeople, who are experts at knowing which part of the shell makes the best blanks for shell button. Black Mother of Pearl Shell Blanks normally have one black side and one white side. Each side is ground down to specified thicknesses and sizes. In this form, the edges, top and bottom are still rough. A beautiful, unique natural product with strong iridescence.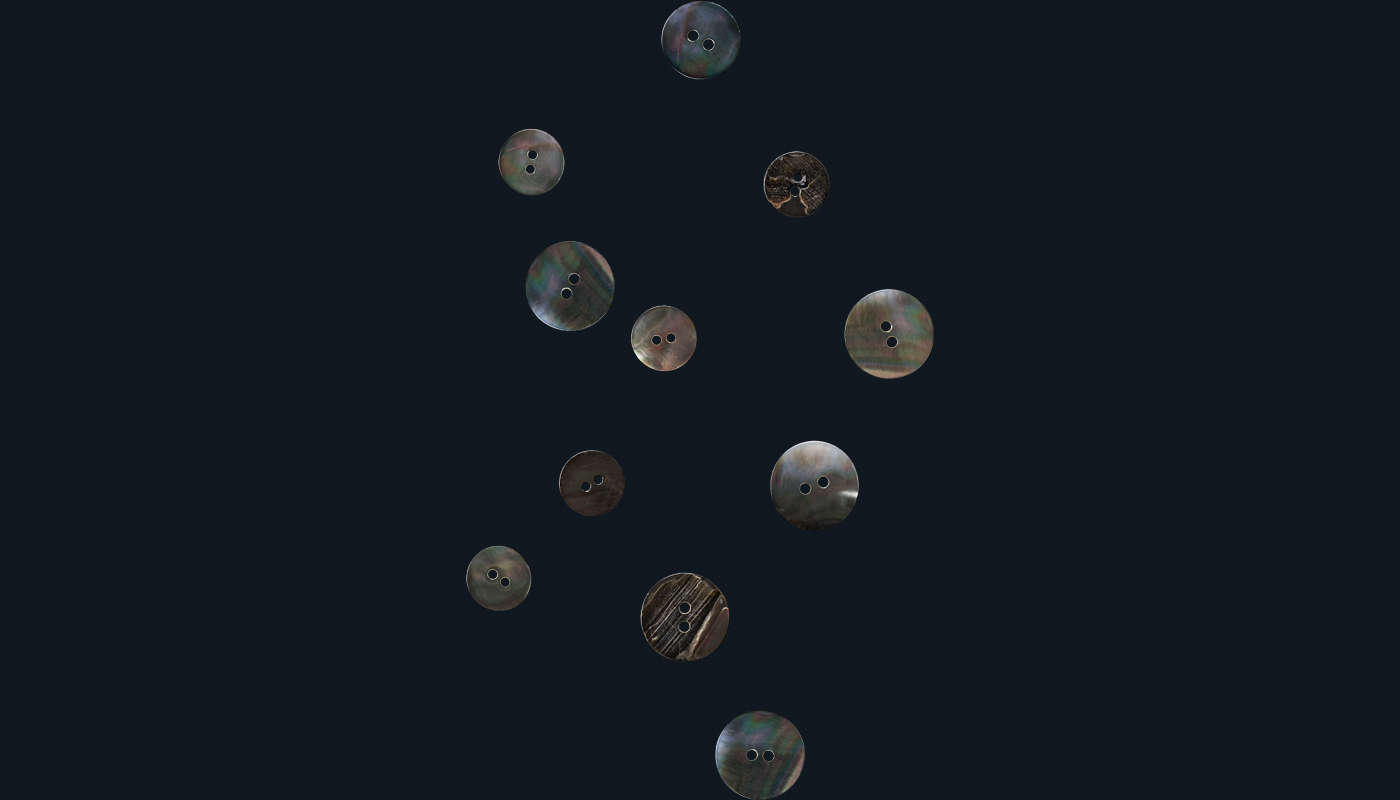 Finished Button
Luméa Finished Shell Buttons are produced by experienced button finishers using state of the art machines, to size, drill and polish the buttons. Buttons can be made to your specific design requirements, and engraved. All finished buttons will have a polished, luminescent finish. A luxurious, well made natural embellishment.
Shell blanks are used by button finishers, whose expertise is in the fine art of finishing the shell button. Blanks can be made to your specific size and thickness requirements.
With iridescent peacock black and pure whites, this button is commonly used to add a sense of luxury to high end clothing and accessories. It has a completely organic finish, where the natural iridescent will illuminate in changing lights. A versatile accompaniment to any coloured fabric with its neutral tones.
Size (Line) (14L, 16L, 18L, 20L, 24L, 28L, 32L, 36L, 40L)
Thickness (mm) (1.5 to 4.5 mm)

Size (Line) (14L, 16L, 18L, 20L, 24L, 28L, 32L, 36L, 40L)
Thickness (mm) (1.5 to 4.5 mm)

Ground
Finished
Shell is a natural product with a variety of factors that affect appearance. Your screen settings also affect the experience of the colours and appearance. Therefore, there is no guarantee it will be possible to achieve the exact appearance as what you see on this website. Certain characteristics of our products may be altered depending on storage conditions or their use in combination with other ingredients. This is beyond our control and we strongly recommend contacting us directly with specific enquiries and testing prior to use.
Tell us about your project...
Your project is unique, so we provide personalised advice before delivering worldwide from our studio in New Zealand.

Luméa products are made from natural shell with a variety of factors that affect form and function. If you can't find the right product from within our range, then talk to us about our custom design service. We love to experiment and collaborate with our partners to create unique solutions.