Pink Mother of Pearl
Luméa Pink Mother of Pearl Shell Shapes are carefully cut from the silky purple pink nacre from this oyster shell. Commonly used for jewellery components or for inlay pieces by luthiers. Luméa Shell Shapes are a versatile product, cut specifically to meet your design requirements.
Polished
The Polished Shapes undergo the same process as the unpolished shapes, however they are polished to enhance the natural pink lustre of the Mother of Pearl shell. They can be polished on one or both sides depending on their end use. To get the smooth, iridescent shine, each piece is individually fine ground, then buffed using a soft wheel and buffing cream.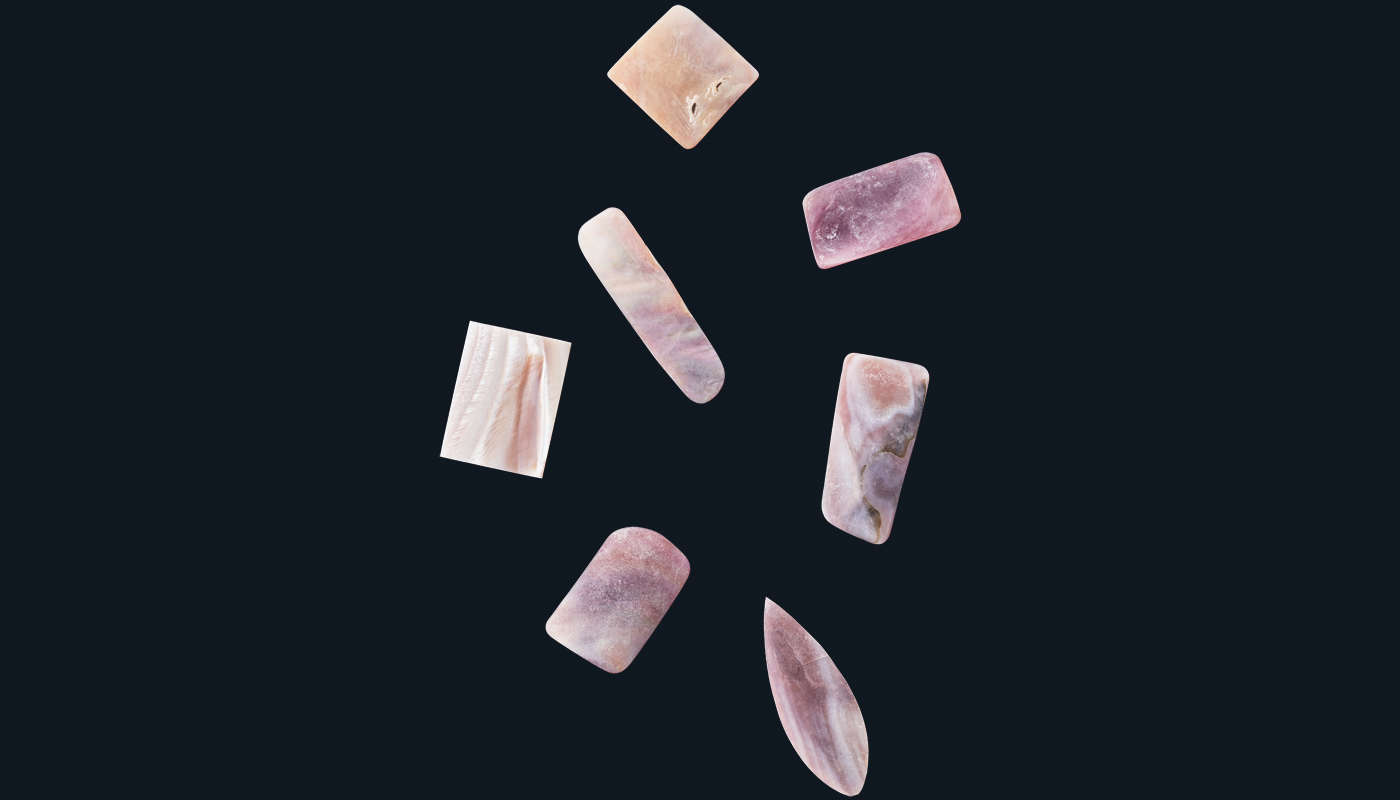 Unpolished
Luméa Unpolished Shell Shapes are produced by experienced craftspeople, using machines to grind pieces of shell into various small shapes, thicknesses and sizes. A beautiful, unique natural product with iridescent dark and light pink hues.
Pink
Pink
Luméa Pink Mother of Pearl Polished Shapes are most commonly used for cabochons in fine and fashion jewellery. The shapes can be laser cut to your specific requirements if necessary. The unique silky pink nacre looks luxuriously stunning set in silver, gold and rose gold.
A versatile product, commonly used for inlay in wooden furniture and by luthiers in musical instruments. The unpolished shapes are used for inlay where, once inlayed into the wood , the surface is sanded flat together with the wood. A coating can be applied, however this is not necessary unless the object will be left outdoors, or if it is in a wet area.
Shapes are made to order. Please contact us with your specific requirements

Shapes are made to order. Please contact us with your specific requirements

Shell is a natural product with a variety of factors that affect appearance. Your screen settings also affect the experience of the colours and appearance. Therefore, there is no guarantee it will be possible to achieve the exact appearance as what you see on this website. Certain characteristics of our products may be altered depending on storage conditions or their use in combination with other ingredients. This is beyond our control and we strongly recommend contacting us directly with specific enquiries and testing prior to use.
Tell us about your project...
Your project is unique, so we provide personalised advice before delivering worldwide from our studio in New Zealand.

Luméa products are made from natural shell with a variety of factors that affect form and function. If you can't find the right product from within our range, then talk to us about our custom design service. We love to experiment and collaborate with our partners to create unique solutions.