Protecting The New Zealand Abalone "Pāua Shell"
If we are serious about our chances to preserve the populations of the iconic Pāua Shell of New Zealand, we need to do more than just obey government restrictions.
On that front, it is heartening to know that various industry stakeholders are being proactive: their goal is not just to protect the existing stock and hope for the best. They also want to help population growth
So let's see what is actually being done...
Government Regulations:
Since the 1990s, the ministry currently known as Ministry of Primary Industries (MPI), had prohibited any "recreational fishers" from using their catch to obtain a commercial benefit of any sort. This applied to anyone operating without a registered commercial License.
This law extends to anyone trading or processing the shells alone: It is prohibited to purchase empty shells from recreational divers.
Since 2021, the law has been written in much more detail. This has allowed enforcement to be much more targeted, by providing very specific guidelines on what is legal and what isn't. As an example, for each species of fish or shellfish that is targeted by recreational and commercial operators, the size limits and daily catch numbers are very easy to understand and respect.
In recent years, the MPI (Ministry of Primary Industries) has allocated some areas exclusively for recreational Pāua diving. This alone has allowed populations to recover and grow, despite regular attendance of local "hobby" divers.
Letting "Harvested Areas" Recover:
Commercial Pāua Divers in New Zealand use a GPS device to map out the main "harvested" areas for each diving campaign. This allows them to select different areas for the next campaign and give more time for the Pāua population to grow again by ensuring that each habitat is not visited too frequently.
Some Proactive Operators Help "Repopulate"
Programs are being developed to transport some "Breeding Size" Pāua into carefully chosen areas, suitable to their population growth. Tracking tags are even used on some specimens to monitor their movements and health. This is all happening in the Pāua's own wild environment, not in a "farming" type setting.
Hopefully, the strict implementation of commercial quota limits, as well as repopulation efforts, will maintain the NZ abalone species in healthy numbers along the entire coastline.
Various Limits Set For Recreational Catch
Depending on the state of Pāua population for each region, catch limits have been reduced to rebuild numbers: the Marlborough region has seen a reduction from 10 to 8 Pāua per person daily. The Kaikoura region has gone down to 5 Pāua per person daily, following devastating Pāua habitat destruction by the 2018 earthquake.
The Results:
Currently it can be said that thanks to efforts made in the last 20 years including law changes and better monitoring of fishing activities, the New Zealand Abalone Pāua can still be considered as a successful species.
Monitoring of populations by New Zealand Fisheries has become quite sophisticated in areas where the population was subjected to unusual pressure, like the Kaikoura coast following the 20018 earthquake.
It is heartening to report that the recovery of Pāua can be very fast, not just in Kaikoura but also in areas declared exclusively recreational in the past few years. Colac Bay near Riverton-Southland- is a great example, where "hobby" Pāua divers have consistently enjoyed healthy numbers in recent times.
Continued efforts will be necessary to maintain this very unique Abalone , including monitoring ocean acidity and other possible threats to their survival.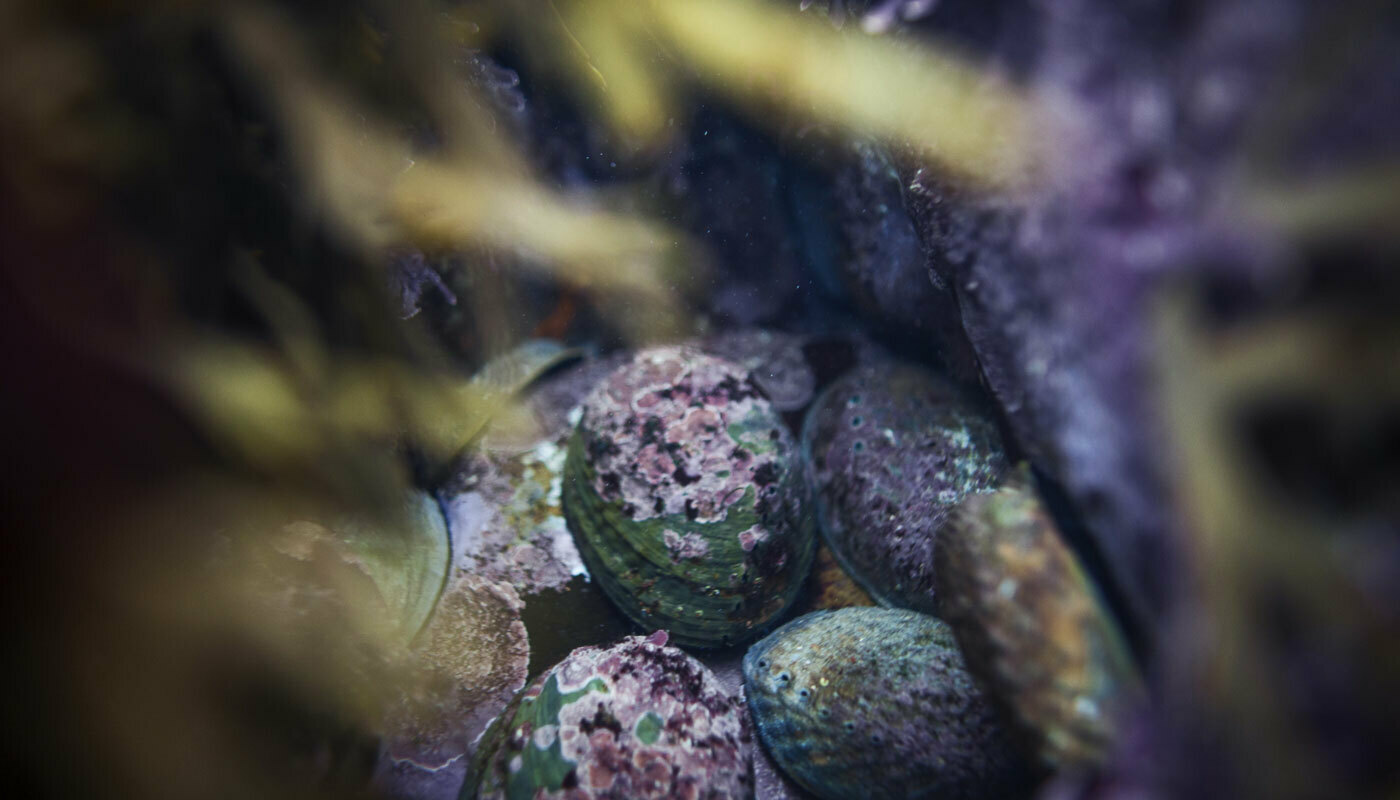 ---
Hidden content (after page loaded).
Sorry, your browser doesn't support HTML5 video, but you can
download this video from the Internet Archive.
Please install the Shockwave plugin to watch this movie.
Tell us about your project...
Your project is unique, so we provide personalised advice before delivering worldwide from our studio in New Zealand.

Luméa products are made from natural shell with a variety of factors that affect form and function. If you can't find the right product from within our range, then talk to us about our custom design service. We love to experiment and collaborate with our partners to create unique solutions.