Is Shell Material Still Present in Shell Veneer Sheets?
Shell material is indeed the essential component of shell veneers. Shell sheets are produced in 3 stages.
Firstly, each shell is cut into curved strips, 15mm to 20mm wide. The thickness of the strip varies from 1 to 3 mm.
In the second part of the process, from every curved strip, several flat shell feathers are sliced, reaching 0.1/ 0.2mm in thickness.
At stage 3, the feathers are manually arranged into a regular or a random pattern, depending on the desired effect. Random patterns are only possible with white Mother Of Pearl, Black Mother of Pearl, and freshwater Mother Of Pearl.
Finally, all these feathers are bonded together and run through a press, to form a sheet between 0.2 and 0.4mm thick.
Some sheets are used without coating and in the natural colour of the shell. Coating and colouring are optional processes that can be added later to provide a range of look and feel. The final result is shown on the video below, after gloss coating. The example here is Natural Paua, with a black paint at the back of the sheet to enhance the colours in the front part.
Shell veneer sheets have brought the captivating iridescence of seashells into a flat surface. In its natural state, only a very small part of the shell has those colourful variations that catch the eye with every change in angles and intensity of light.
Shell veneers have been cut into a great variety of shapes and strips, to suit the needs and the imagination of furniture designers, luthiers, craft artisans, fishing lure makers and fashion jewellery artists, to name just the main users.
Can I wrap a shell veneer sheet around my fishing lure, fishing rod, or a wooden vase?
It is relatively easy to flex shell veneers around around a convex shape, simply by using heat from a heat gun. If more flexibility is required, the flexible veneers are a great option, as they will flex into a narrow "U" shape. The sheets are made by inflicting numerous micro-breaks in the shell feathers, which are almost invisible. The result is much thinner than coated veneer sheets, only 0.1 mm versus 0.25/0.4mm for normal veneers .
Flexible veneer sheets are uncoated, but you can apply your own coating once your inlay is completed.
Is it possible to obtain the same thickness as a solid shell with a flat surface?

Shell composite sheets are a great replica of the natural shell, and are perfectly flat. Created by bonding 3 to 5 veneer sheets together, shell composites have the look and feel of solid shell, with predictable, regular thickness. 3 veneer sheets are used when the required thickness is 1mm, and 5 sheets for 1.5mm composites.
Shell composite is often requested by furniture manufacturers for inlay, as it allows them to do their own sanding and final coating for a seamless finish. Working with solid wood and shell composite ensures a very high quality and durable result.
In search of more versatile uses for interior décor?
Shell veneer can be added to a ceramic style backing and chosen to provide and unique accent to your kitchen, bathroom or even your lounge. With acrylic backing , create your own panels for bathroom or kitchen splash-backs, and versatile design patterns cut from veneer sheets.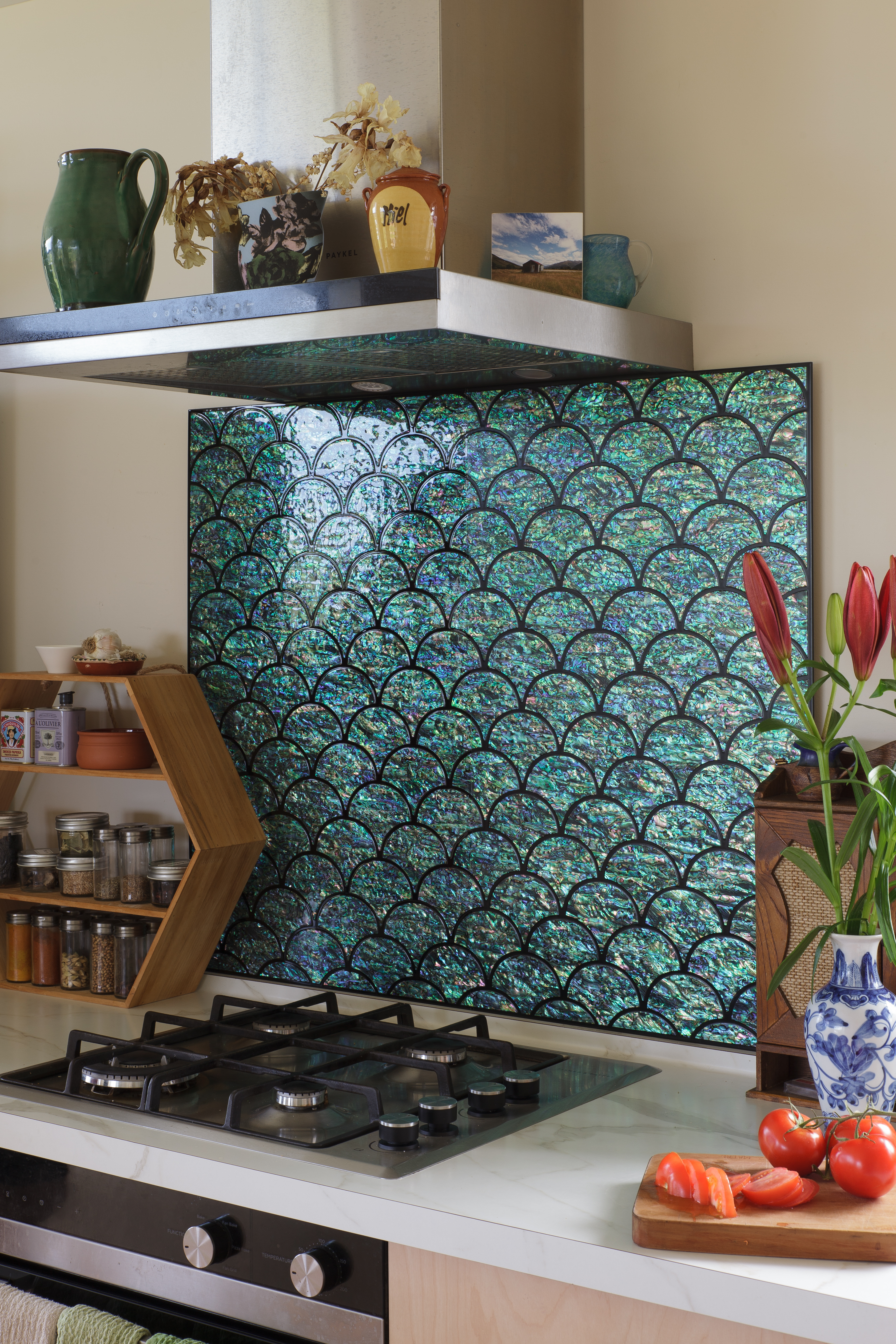 The versatility of shell sheets has boosted the creativity of artists and makers worldwide, and continues to fascinate fashion designers. Companies like Louis Vuitton, L'Oreal, and many fashion Jewelers seek to bring the natural look and feel of shell surfaces in their collections for yet a stronger point of difference.
Tell us about your project...
Your project is unique, so we provide personalised advice before delivering worldwide from our studio in New Zealand.

Luméa products are made from natural shell with a variety of factors that affect form and function. If you can't find the right product from within our range, then talk to us about our custom design service. We love to experiment and collaborate with our partners to create unique solutions.